If you are looking for a whole family to practice together, the Nordictrack C300 Treadmill is the best product for the daily exercise for the whole family.
The Nordictrack C300 household treadmill is one of the high-end versatile products to help you practice walking and jogging. Purpose of losing weight, increasing fitness, reducing fat, consuming calories, practicing therapy … besides your treadmill you can also refer to the whole body machine. Exercise bike for more great exercise equipment for the whole family.
Nordictrack C300 household treadmill with outstanding design and features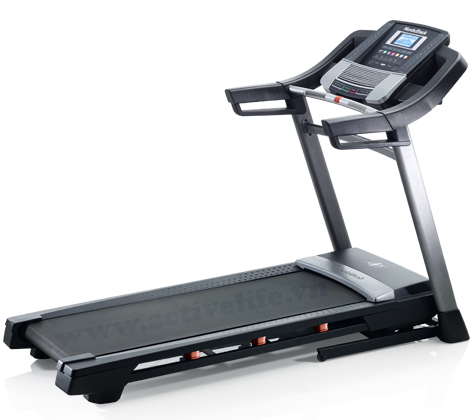 Image of C300 household electric treadmill
The DurX engine is powerful and smooth
With a continuous power of 2.75HP and a maximum capacity of up to 4,124HP. This product fully meets the needs of continuous exercise with high intensity for many practice subjects
With beautiful and smart design, the parts are perfectly matched together. C300 will operate smoothly without noise, minimize friction between parts to ensure continuous and durable machine operation.
Spacious carpet and durable
With dimensions 152x51cm too spacious for jogging. You only need to practice jogging, this mat will meet 2 people practicing at the same time with a capacity of up to 135kg.
AutoBreeze cooling system
Feel the breeze cool like natural breeze through the intelligent AutoBreeze cooling system. The system that helps the most relaxed to face his exercise program.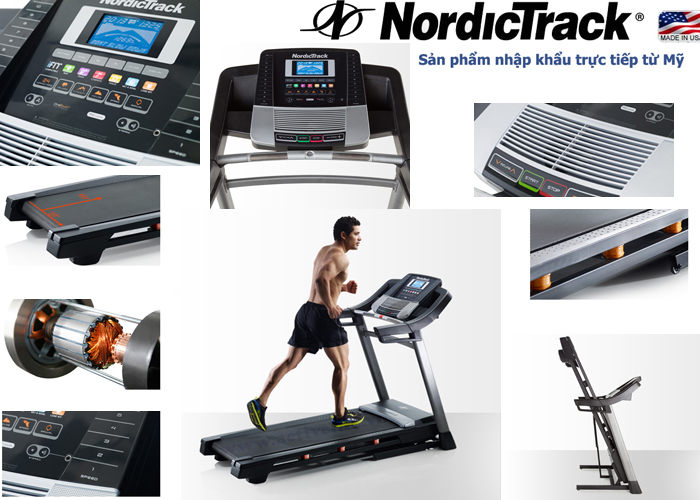 Hình ảnh các bộ phận và chức năng trong máy tập chạy bộ bằng điện cho gia đình
FlexSelect durable damping system
Feel the difference from your feet with this special suspension system. There will be no more pain from joint injuries during exercise. FlexSelect shock absorbers minimize reaction on the joints and other vulnerable parts of the body. Make you feel safe with your workouts.
Professional training with 24 default programs
With 24 programs researched by the world's leading experts on health and exercise. Nordictrack C300 will bring you the perfect workout plan for many purposes. All you have to do is adjust the exercise and the level that best suits your ability.
Support iPod connected speakers
Now you can enjoy your favorite songs while practicing through a music player and the built-in speaker system of a home treadmill.
You will feel the comfort and convenience through the advanced technology in Nordictrack C300 Treadmill. Your workout has never been so easy, comfortable, and effective.
You may be interested in the following products:
– Electric treadmill at home
– Treadmill exercise machine
– Exercise bike
– Exercise machine body