The Nordictrack R65 backrest bike is designed for back comfort during exercise. With wide, airy seats combined with spacious pedals, you will surely be satisfied.
The Nordictrack R65 backrest bike has handles that provide the support you need to get a firm grip on heavy exercise. Helping people pursue their fitness goals with the most comfortable posture, increasing daily productivity.
Touch ONETOUCH ™ control.
Quickly, responsive controls adjust the level of lightness in your workout almost instantly with the controls. Then you can focus completely on your exercise to get the best effect.
Scroll wheel
Quickly move your on-site bicycle from room to room easily with the transport wheel mounted on the front. Can be easily done with one person.
9 kg flywheel weight
Nordictrack R65 backrest bike is designed for extremely smooth performance, 9 Kg flywheel weight helps the machine operate naturally. You will feel the difference in your first workout.
32 Exercise program
The Nordictrack R65 backrest bike was designed and built by every US health specialist. 32 exercise programs are divided into different types of exercise programs to help practitioners easily reach their fitness goals. Types of programs include weight loss, endurance, increased fitness, cardiovascular exercise.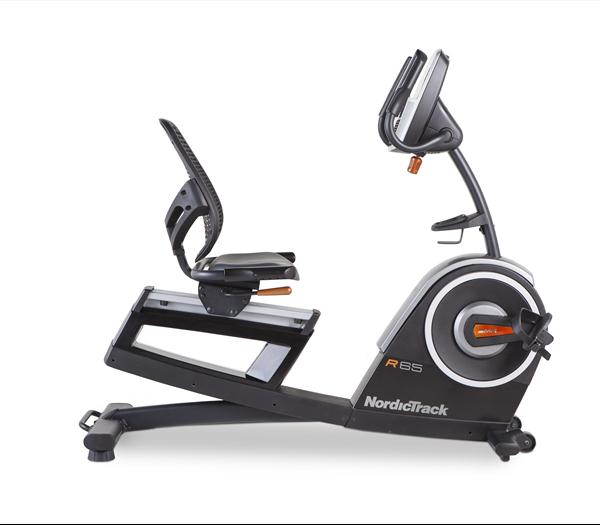 25 LIGHT HEAVY RESISTANCE
Quickly, respond to the different training intensity of each member with a button to control the appropriate level of lightness. This exercise bike is suitable for all members of your family.
WIDE TABLES
The Nordictrack R65 has a very wide bike to fit each leg. The specially designed pedals have adjustable straps for stability during the training session.
TRAY TO BOTTLE WATER
Replenish water throughout your workout by keeping the bottle close to you. This convenient water bottle holder is designed to be easily accessible.
MAXIMUM WEIGHT WEIGHT
135 Kg
MEASURE HEARTBEAT
The heart rate is receiving signals on both handles and is clearly displayed on the training screen. Helps to easily observe and exercise at the appropriate heart rate threshold.