The Nordictrack E9.0 full-body exercise machine features an exquisite design. The machine is integrated with many smart features to help the training become convenient and most effective.
The perfect design of the Nordictrack E9.0 Body Trainer gives you a true professional workout style. The large pedal combined with the handle creates the most versatile all-round exercise product.
The following advantages will satisfy all you need in a full-body exercise machine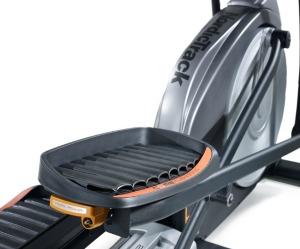 The Nordictrack E9.0 full-body exercise machine is suitable for all types of exercise so you can use it for the whole family or fitness clubs.
You can easily adjust the pedal length to suit your stride. Depending on the purpose of exercise we will adjust the long or short run. Custom lengths up to 51cm.
Nordictrack E9.0 with 22 levels of resistance combined with a slope adjustment of 3 to 20 degrees makes your workout more effective.
The control panel uses 1-touch technology that allows you to easily operate. Adjust the level of braking force, slope, switch back and forth between training programs. Just a light touch no longer annoying hard buttons.
The iPod connected speaker system helps you enjoy your favorite music while practicing.
The whole body cooling fan feels cool so you can practice longer.
You can monitor your heart rate via a wireless heart rate monitor. Or grab the heart rate sensor on the camera body directly.
Nordictrack E9.0 is fully functional for you to exercise at home most effectively. Come to our showroom or contact us directly for the best advice.